FARMINGTON
175 Years of History and Community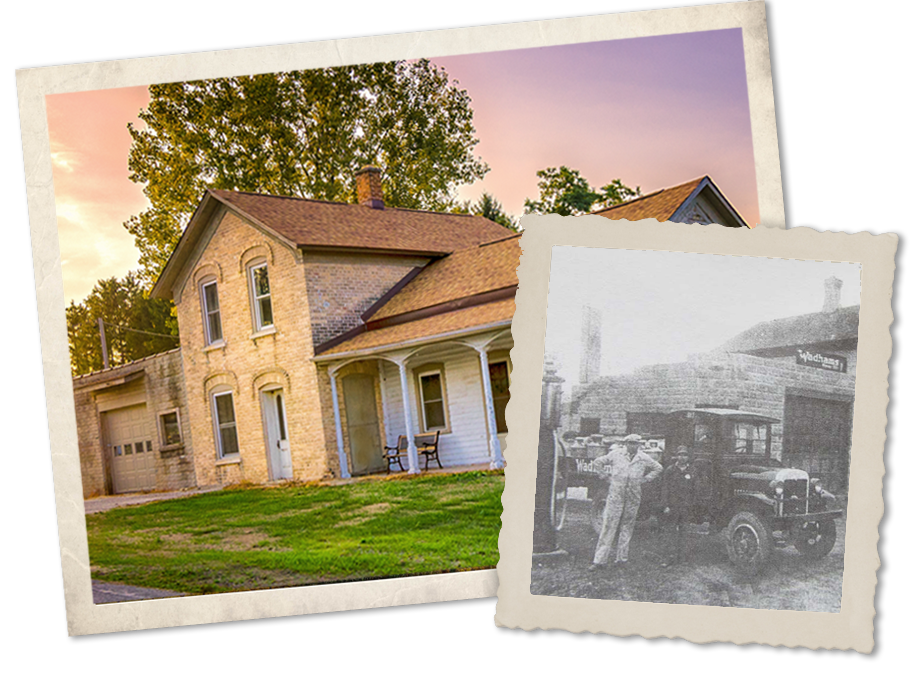 Honoring the past. Embracing the future.
2022 represents a significant milestone in the Town of Farmington's history—its 175th anniversary. As we commemorate this milestone, it is important to not only look back at where we have been, but also look ahead to what is on the horizon.
Follow us on Facebook as we highlight the people and places that have shaped Farmington over the past 175 years.
Town Government
---
On March 11, 1847, not long after the first settlers came to the area, Farmington was formally declared a township. The Town Board held its first meeting on April 6, 1847, at the home of Thomas Bailey. Included on the agenda of the first meeting was the need for roads, bridges and schools.
THEN
1847
---
Chairman: George Manley
Supervisor: Jeremiah Fergeson
Supervisor: James Haris
Clerk: Benjamin F. Buck
Treasurer: Samuel Wescott
NOW
2022
---
Chairman: Doug Neumann
Supervisor: John T. Guttmann
Supervisor: Mike Rodenkirch
Clerk: Patty Hoerig
Treasurer: Ken Ramthun

Growing Up in Farmington
From the Oral History Archives
---
Paying Tribute to the Past
On March 4, 1996, and again on April 5, 2006, students from Kewaskum High School met with long-term area residents in a joint effort to preserve the history of the Town of Farmington. Each student was paired with a resident partner and captured growing up in Farmington through their partners' eyes.
Featured here are excerpts from these documented oral histories, one of the ways we remember and pay tribute to the past.
---
Excerpts from: A Walk Down Memory Lane, A documented oral history, Town of Farmington, 1996, and A Walk Down Memory Lane Vol II, A documented oral history of the Town of Farmington, 2006.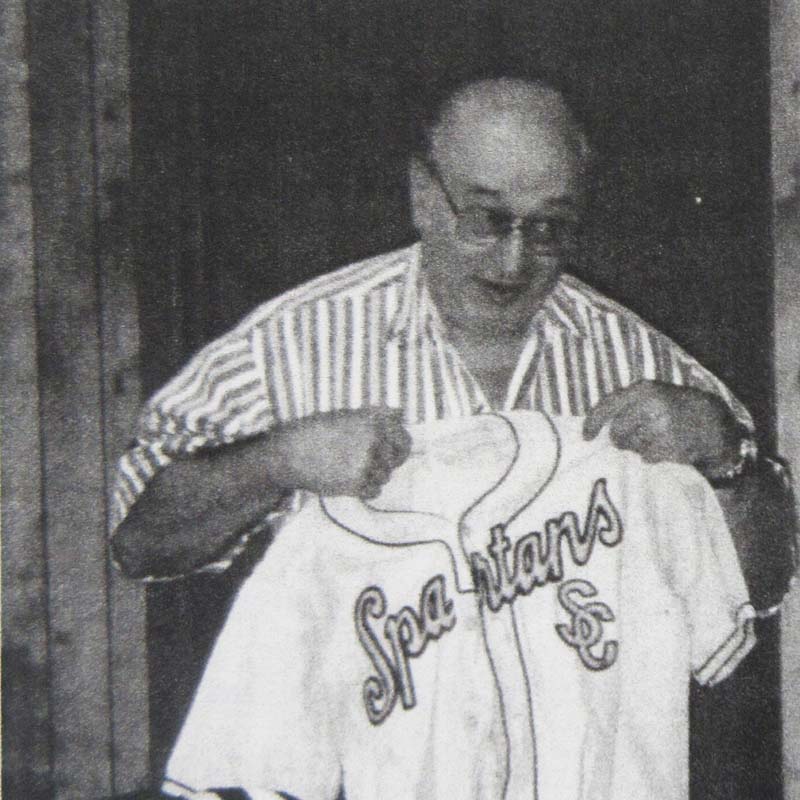 Ray Mertzig
Related on April 5, 2006
"Times weren't very easy for our family back when I was young. My parents got divorced, and my brother, sister, and I moved in with our grandparents...But just because our family didn't have a lot of money, doesn't mean I didn't have any fun. I played football and baseball for Random Lake High School. I also was a part of fast-pitch softball teams, and I was pretty good, too. I played on a team that was sponsored by a tavern, like most teams back then. We won numerous championships with our great coach, my grandpa. He would pick up the team in his truck and take us to West Bend for the game."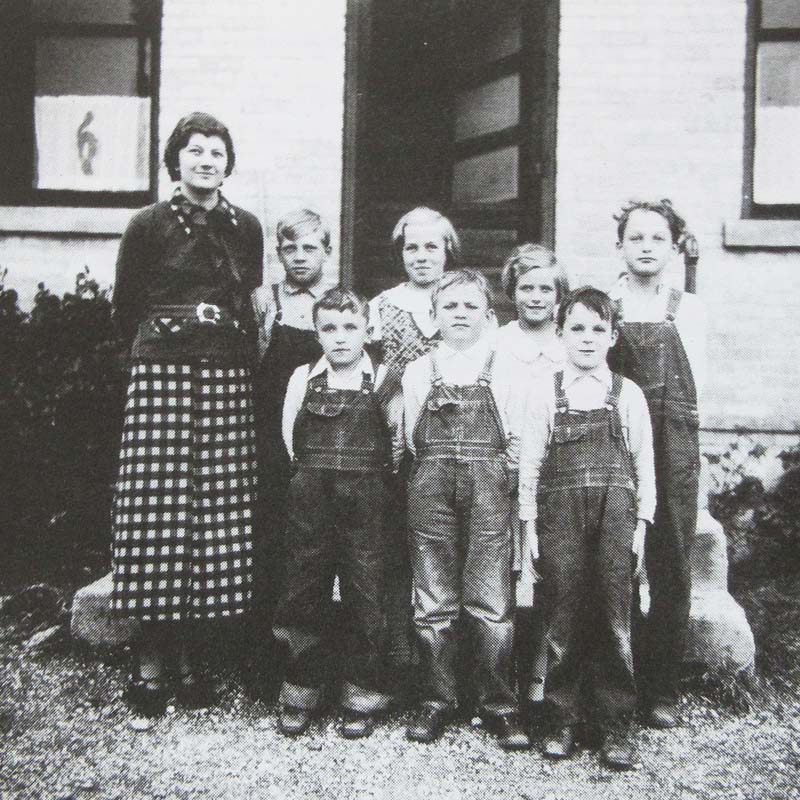 Mildred (Woog) Weiss
Related on March 4, 1996
"In 1933, I started teaching at Old Brick, a one-room school in the Town of Farmington for only $67.50 per month because of the Depression...Three years into my teaching career, nature astonished all who lived around the area. During January and February, a blizzard hit so hard that Highway 144 was closed for six weeks. It took 50 WPA workers with shovels in front of the plow just to push the snow. The snow was so high I remember stepping over telephone wires in front of the school and then slipping through a tunnel to the schools doors."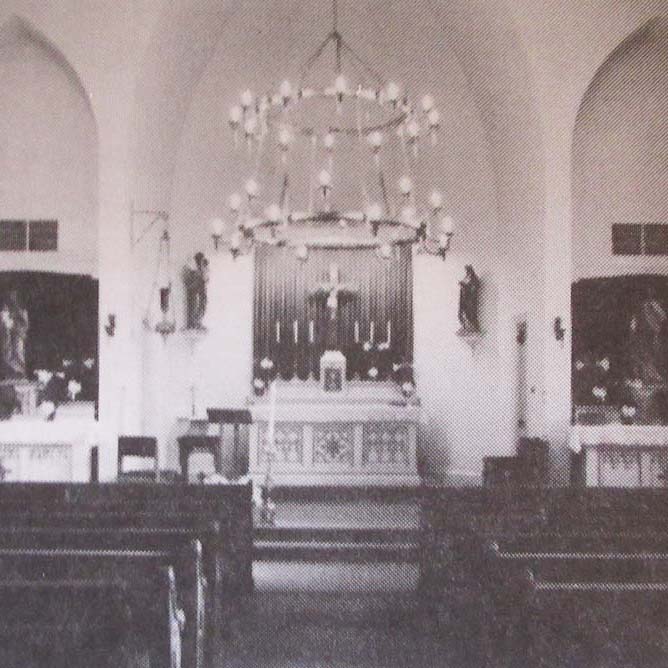 James McKee
Related on March 4, 1996
"I used to walk from Orchard Grove School to Highway 28 where I'd be picked up to go to church to serve at Mass, which I did until I was 19 years old. Father Byers from St. John of God was the person I admired most while growing up, probably because religion seemed more important back then than it appears to now."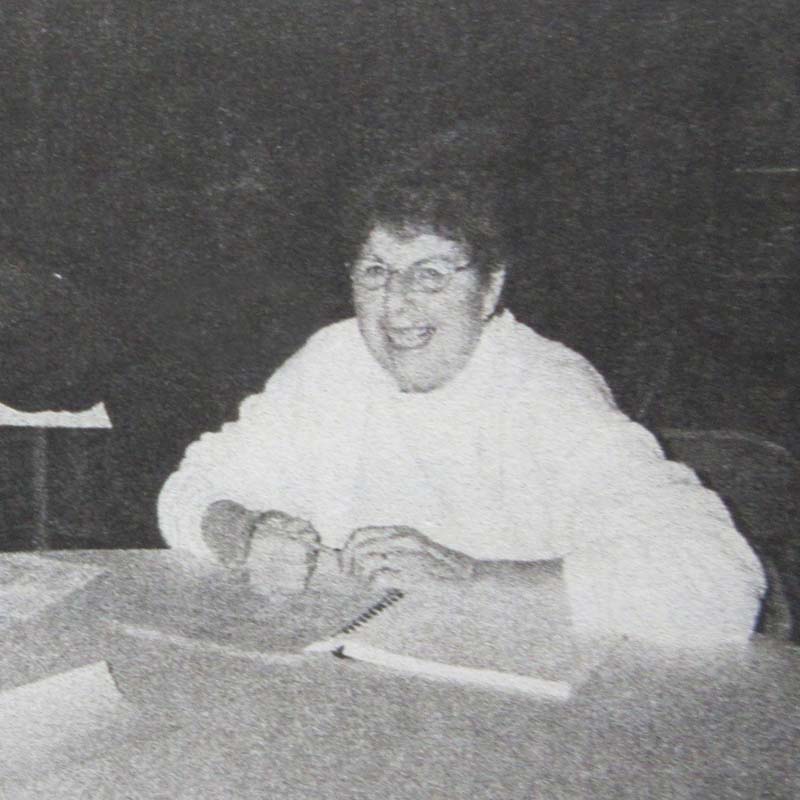 Estelle (Schladweiler) Matenaer
Related on April 5, 2006
"During the winter, we loved ice skating and sleigh riding. My friends and I would go sledding on the streets, which at the time were all gravel. Sometimes when we began to go very fast on the snow, we would hit a dry gravel spot and go flying. It was only a couple bumps and bruises, and we still had a lot of fun with it. And of course, being children, we had to get into mischief sometimes. We had fun going on top of the barn and playing tag. But when dad came home, we sure got in a lot of trouble."
Schools Timeline
Then and Now
---
1840s
Washington School
A log cabin school located along Stony Creek is believed to be the first school to have been built in the Township. Old timers remember a wooden school building on present-day Wescott Road, but no records prior to 1900 are available. A split-level brick school (pictured) was built on the site in 1932. Washington School closed in 1949. It is now a private home.
1847
Orchard Grove School
The second school in the Township was built in 1847 in Section 19 and was known as Ramsey School. In 1906, Ramsey School was moved to the northwest corner of Highways H & HH, and called Orchard Grove School. In 1915, a new school was built on the site with continued improvements through the 1950s.
Orchard Grove School Today
Orchard Grove School remained in operation until the new Farmington School was built in 1966. The schoolhouse is now a private residence.
1848
Old Brick School
In 1848, 26 students were enrolled in this small school, and by 1910, the school had the capacity to handle 48 students. By 1954, enrollment had fallen, and the school was closed. The brick building continued life as a meeting place for the local 4-H club until 1970. It was demolished in 1993 after a tornado destroyed the cupola and chimney.
1850
Cheeseville School
Cheeseville School began as a log building in 1850 but was outgrown and rebuilt as a frame structure in 1859. A brick building replaced the frame structure in 1912, with one large room serving all eight grades. This was the first school in Washington County to have indoor plumbing.
Cheeseville School Today
Cheeseville School was sold in 1976, and the new owners refurbished it and converted it into a residence, keeping the original floors and wainscoting.
1850s
Fillmore School
The exact date of the first school in Fillmore is unknown, but most likely, a log cabin school was built soon after the districts were organized in 1847. A larger school was built some years later, and an addition was added in 1867. In 1901, Fillmore became a State-Graded School. Improvements to the school were made into the 1950s.
Fillmore School Today
Fillmore School stayed open until the new Farmington School was built in 1966. The building is now a private residence.
1860s
Boltonville School
Written records suggest that Boltonville School began as a log cabin in the 1860s. A brick school replaced the cabin in 1874 to accommodate the growing population. In 1885, a two-story brick school was built, with an initial enrollment of 114 students. Boltonville School closed after Farmington School was built in 1966. It is now a private residence.
1867
St. John of God School
A one-story fieldstone school with arched windows was built in 1867 by St. John of God Parish members and their neighbors. The school closed in 1906, and by the late 1930s, substantial deterioration had occurred. By the 1990s, only partial walls remained. The remaining foundation was torn down and buried.
1875
St. Peter's School
In 1874, an agreement was signed with the Milwaukee Diocese to lease one-half acre just east of St. Peter's Church to build a school for the District, not for use as a parochial school. A one-room fieldstone school building was constructed the following year. The school closed in 1924 when the lease expired.
St. Peter's School Today
4-H meetings were held in the school until the late 1950s. It is now a private residence.
1966
Farmington Elementary School
In 1966, a new centrally-located school, Farmington Elementary School, was built to serve the Township. The three remaining independent schools, Boltonville, Fillmore, and Orchard Grove, were consolidated into the new school. Population growth increased in the 1970s, and an addition to the school was built in 1975.
Farmington School Today
Farmington School is the heart of the community and serves over 200 students in grades pre-K to Grade 5. The old bell from Fillmore School is positioned near the front of the school.
Farmington Today
Farmington has grown into a community that is rich with pride in its history, schools, farms, neighborhoods, and beautiful Kettle Moraine landscape. Family activities include lakes, parks, a wildlife zoo, and an organized summer ball program. Farmington Elementary School is the heart of the community, and small businesses continue to serve the area.