Old Brick School (Handke School) – District #1
Highway 144/County Highway A
An 1848 report indicates that 26 students were enrolled in this small school, and by 1910, the school had the "ability to handle forty-eight students." Old Brick School had significant local support with student families forming clubs, organizing card parties and sponsoring outings to raise funds for the school.
By 1954, after a long stretch of educational service, enrollment had fallen, and the school was closed. The brick building continued life as a meeting place for a local 4-H club until 1970 and was demolished in 1993 after a tornado destroyed the cupola and chimney. Today, there is no physical trace of the little school that graced the corner for 117 years. Storage units currently occupy the site.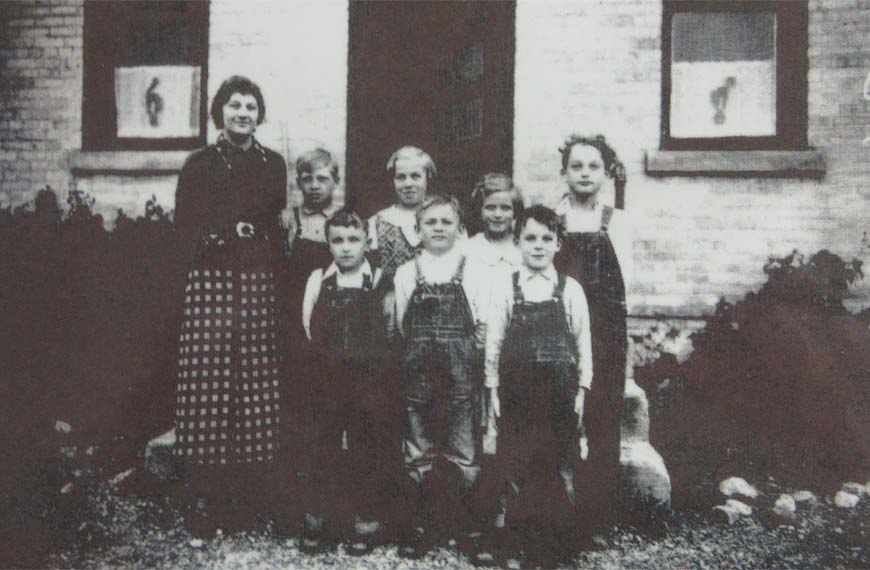 Boltonville School – District #2
1333 Scenic Drive – Boltonville
Written records suggest that Boltonville School began its educational journey as a log cabin in the 1860s. A brick school replaced the cabin in 1874 to accommodate the growing population of the District. In 1885, a two-story brick school was built to the east of the original site, with an initial enrollment of 114 students.
Disaster struck on March 4, 1913, when the school burned from a fire of unknown origin. Only fifteen books and the walls survived the fire. Pupils continued classes in the Woodman Hall (formerly the Odd Fellows Hall) next door while the school was rebuilt.
In compliance with State Codes requiring centralization of rural schools, Boltonville School closed and became part of Farmington Elementary in 1966. It is now a private residence.
District #3
Southeastern Farmington
Over the course of thirty years, there were many boundary changes of the school districts due to natural terrain, no available roads, or shifts in population.
The District #3 school was located in the southeast third of the Township. There were 29 students in 1849.
In 1872, Joint District #3a was created as a district with adjoining sections in the Towns of Trenton and Saukville. The school was located in Newburg, a two-story brick building, which was closed in 1962 when Newburg became part of the West Bend school system. The building was sold and had been used as a carpentry shop and a hardware store.
What had originally been District #2 in the southwest corner of the Township became Joint District #3b. It remained #3b until 1962 when it became part of Joint District #1 in Farmington. The school in this District is located on the east side of Trenton Road, one mile north of Highway 33. It is currently used as a residence after being utilized as a store for some years.
Cheeseville School – District #4
912 County Highway A
Cheeseville School began as a log building in 1850 but was outgrown and rebuilt as a frame structure in 1859. A brick building replaced the frame structure in 1912, with one large room serving all eight grades. In 1926 indoor toilets were installed, making Cheeseville School the first school in Washington County to have indoor plumbing.
In 1955-56, Cheeseville consolidated with Newburg. Attendance gradually declined, and in 1958, only six students attended classes. The following year, students were sent to Fillmore and Town of Trenton Schools. Cheeseville School was sold in 1976, and the new owners refurbished it and converted it into a residence, keeping the original floors and wainscoting.
Fillmore School – District #5
557 County Highway H – Fillmore
The exact date of the establishment of the first school in Fillmore is unknown, but most surely, a log cabin school was built soon after the districts were organized in 1847. The earliest written mention of a school is 1867 in the book, Backwards from Ninety: The Autobiography of Marie Mathilde Brinker, 1848-1873.
A larger school was built some years later, and in 1867, an addition was added when Marie Brinker was hired to teach primary school. By 1883-84, there were 125 pupils in school. In 1901, Fillmore became a State Graded School, and the District was required to employ teachers that were qualified to teach 9th through 12th grades.
Many improvements to the school were made over the years and continued into the 1950s. In 1962, Fillmore became part of Joint District #1 until the new Farmington School was built in 1966. The building is now a private residence.
St. Peter's School – District #6
998 East Newark Drive
St. Peter's School is the second venture of cooperation between public and parochial education interests. In 1874, an agreement was signed between the Milwaukee Diocese and District #6 to lease one-half acre just east of St. Peter's Church to build a school for the District, not for use as a parochial school.
A one-room fieldstone school building was constructed the following year. Students brought drinking water from the Schwin/Schwinn home west of the church.
The school closed in 1924 when the lease expired. 4-H meetings were held in the school until the late 1950s. It is now a private residence.
Washington School – District #7
9103 Wescott Road
A log cabin school, located on Stony Creek in northwestern Farmington, appears to be the first school to have been built in the Township. Glenway Wescott's novel The Grandmothers makes mention of such a place, but no further mention of this school has been found, and the exact location remains unknown. Old timers can remember a wooden school building on the present-day Wescott Road, but no records prior to 1900 have been found.
A split-level brick school was built on the site in 1932. It had a drinking fountain, a chemical toilet, one large classroom and a library.
In spite of accepting tuition students, the school was forced to close its doors in 1949. It was permanently closed in 1954. It is now a private home with an addition on the south side.
St. John of God School – District #8
1488 Highland Drive
In 1867, an agreement was reached between the Catholic Diocese and the School District for the construction of a public school on land owned by St. John of God Catholic Church. A one-story fieldstone building with arched windows was built by parish members and their neighbors. A fieldstone convent was also built to house the Sisters of St. Agnes who staffed the school in the early years.
In June of 1906, the school closed and stood vacant. By the late 1930s, substantial deterioration occurred, and by the 1990s, only partial walls remained. An unsuccessful attempt was made to include the school with the Church on the National Register of Historic Places. The remaining foundations were torn down and buried. Today, no trace of the school and convent remain.
Orchard Grove School – District #9
2110 County Highway H
The second school in the Township was built in 1847 in Section 19 and was known as Ramsey School. In 1906, Ramsey School was moved to the northwest corner of Highways H & HH, and called Orchard Grove School. In 1915, a new school was built on the site. There were many improvements to this school through the early 1950s.
Consolidation of District schools began in 1953. The school remained in operation until the new Farmington School was built in a central location in 1966. Orchard Grove School is now a private residence.
Riverside School – Joint District #9
Country Lane, South of County Highway A – Town of Fredonia
Available records for Riverside school are scarce. In 1873, there were sixteen students, nine of them from Farmington. By 1910, there were only three Farmington families using the school. The school closed in the late 1930s and was sold.
As a residence today, the building retains its schoolhouse appearance. It is located on Country Lane, 3/10 mile south of County Highway A in the Town of Fredonia (Ozaukee County).
Hillside School – Joint District #10
Jay Road & County Highway E – Town of Fredonia
Hillside School was in existence in 1856, probably as a log cabin school. At some point, a brick building was constructed. Only a few students from Farmington attended this school. Because of dwindling attendance, the school closed in 1957. In 1962, this area became part of Joint District #1 and area students were sent to Fillmore School.
Today, Hillside School serves as a private residence. It is located one mile east of Farmington on the southeast corner of Jay Road and County Highway E in the Town of Fredonia (Ozaukee County).
Farmington Elementary School – Joint District #1
8736 Boltonville Road
In 1962, three independent schools, Boltonville, Fillmore, and Orchard Grove, remained open and served the residents of the Township. The County School Superintendent recommended building a new K-8 school. Meetings were held and discussions led to choosing a site on Boltonville Road which was nearly centrally-located in the Township. The school would have five classrooms, a library, office, large kindergarten room, and a gymnasium.
At the same time, discussion evolved on whether to create a K-12 single school district with the Kewaskum area. On June 14, 1966, a special referendum was held that dissolved all the independent districts; attendees voted to create a K-12 District and a new school board of seven members. The plan dissolved the present union high school district and the separate elementary school districts and established a common district to include the Village of Kewaskum, the Towns of Kewaskum, Farmington and Wayne, and a portion of the Town of Barton in Washington County, plus parts of the Towns of Ashford and Auburn in Fond du Lac County and Towns of Scott and Mitchell in Sheboygan County. This new school district brought art and music classes to Farmington and sent 7th & 8th graders to school in Kewaskum.
Population growth increased dramatically in the 1970s, and an addition to the school was built in 1975. Farmington Elementary School today serves over 200 students in grades Pre-Kindergarten to Grade 5. The old bell from Fillmore School is positioned near the front of the school.