Lizard Mound Curriculum
For educators, visiting groups, parents & children, these lesson plans are designed to enhance your visit to Lizard Mound Park! Subject areas are science, math and art, and each plan meets the curriculum standards for 4th grade. Free to download and use.
Come, explore, and learn about the people who built these monuments in Wisconsin over 1000 years ago!

Park Map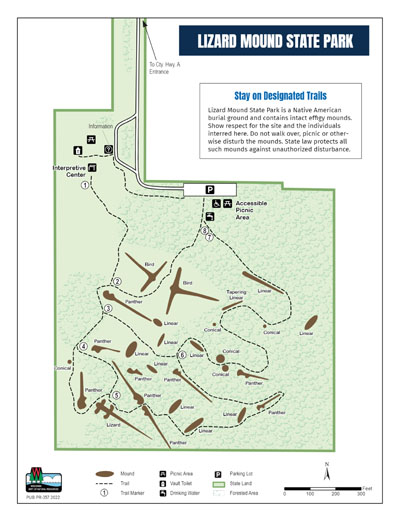 Click For Full Size Map (PDF)
Lizard Mound Etiquette
Please treat this area with respect — stay on the trail and do not walk on the mounds. It is illegal to remove or to otherwise disturb archaeological sites without a permit.
About The Park
The mounds at Lizard Mound Park are remnants of a prehistoric culture unique to Wisconsin. In 2011, Washington County constructed an Interpretive Center with signage and audio exhibits to tell the story of the site. The Park is open to the public Spring – Fall. Free admission.
Park Amenities
Interpretive Center
ADA Accessible Picnic Area
Portable Restrooms
Water
Historic Site
Walking Trail