A Barn Raising Bee
---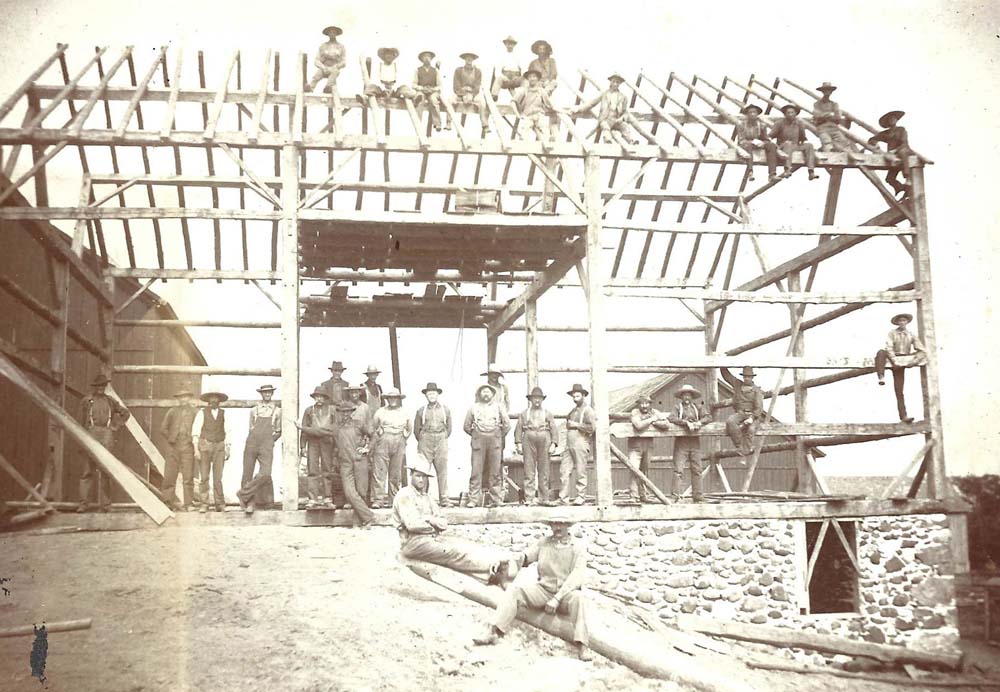 An early 1900s Farmington barn construction.
With not much time for just plain leisure, the pioneers developed fun ways to make chores a neighborhood event in the form of "bees". Several types of bees were popular during the early period of Farmington history. The gatherings made quick work of chores that would have taken an enormous amount of time and effort for a single family. Almost any kind of work on the farm could be called a bee, from barn-raising to butchering to gathering wood. "Many hands make light work" was a common motto.
Ray Seidemann remembers the barn-raising bee at his father's farm:
The walls of the barn were built flat on the ground first. An arched basement was built for storage of cow feed during the winter. The carpenter set the floor joists and laid the planking. The wall frames were put together with hand-chiseled tongue and grooves, and beams were pegged together without nails.
A raising bee was the part of the barn construction where the neighbors were invited to help raise the walls of the barn and build the roof. Ropes were tied around both sides of the top beams, and the walls were heaved up as high as forty men could lift. Pike poles were used to push on one side while men pulled on the ropes of the other side to raise the wall perpendicular to the floors. All four walls were heaved up in this manner. After the framed walls were up, the roof rafters were put into place, then the sheathing and shingles were put on.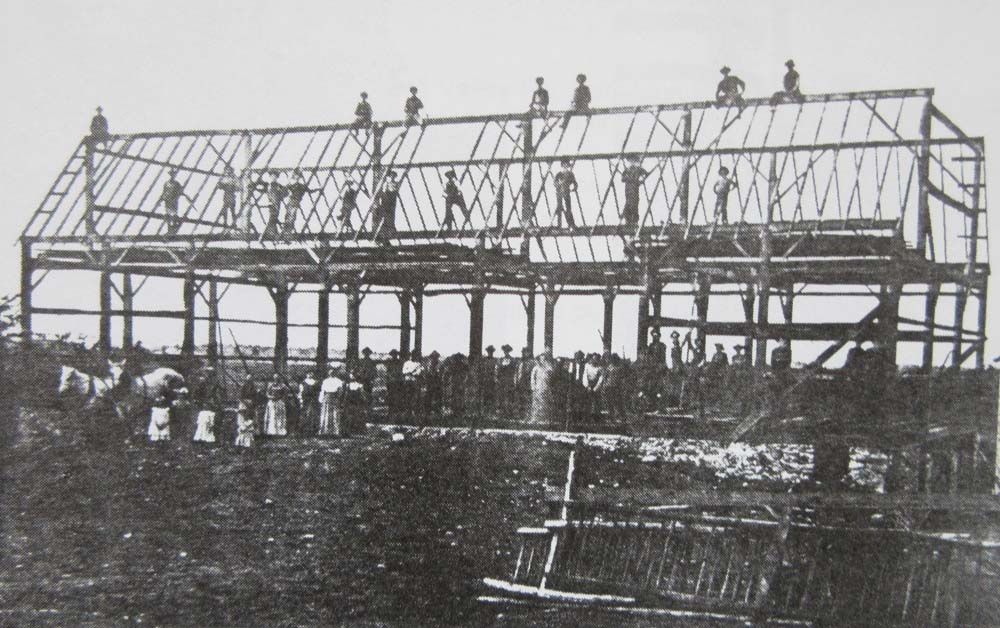 Seidemann Barn Raising, 1904.
Built in 1904, the Seidemann barn cost $600, with the carpenters charging one dollar a day plus meals. All of the framing lumber was hand-cut from their own trees on the farm. The working schedule was sun-up to sunset. The ladies and children served up hearty lunches and dinners for the workers.
Excerpts from Footprints Through Farmington, 1997.