Memories of Fillmore School
---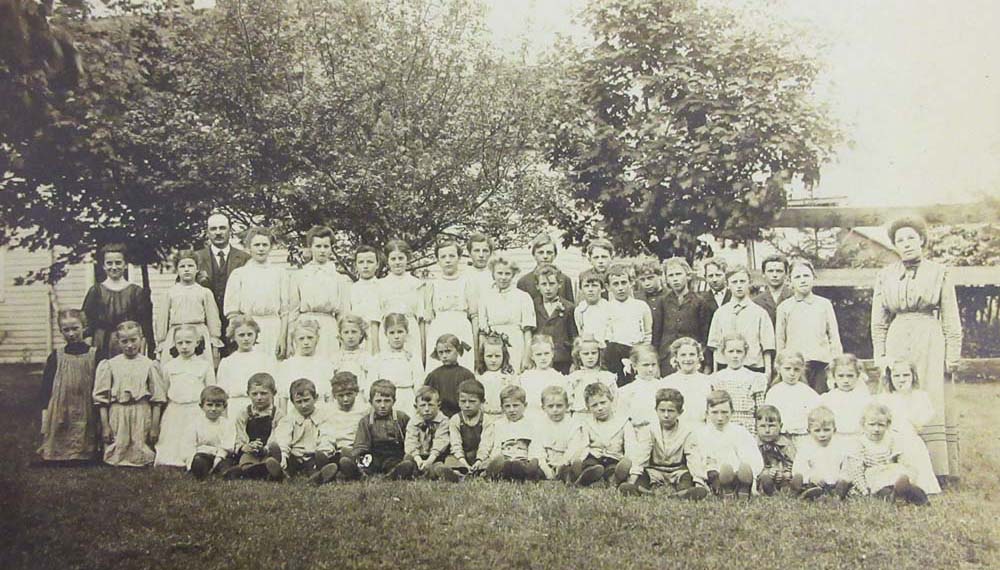 Fillmore School Picnic
Fillmore School was built in 1884 and closed in 1967 when Farmington Elementary School opened. It was one of the earliest graded schools, a school that divided students by grade, rather than the typical one-room method.
Bernice Hron, an early resident who attended school from 1918 to 1927 and taught at the school in 1933, recalls:
In early years, the furnace never worked well. At one time, each classroom was heated by a jacketed center stove. It was a good place to dry snowy wet clothes. When the new furnace was installed, the side entry to the basement was built, and the front entry way was added to protect the north doors from being blown open.
In the kitchen room, 7th and 8th grade girls met to learn cooking and sewing at 2 PM Friday afternoons. Boys had manual training in the basement. All other children went home at 2 PM on Fridays.
Children brought their lunches from home in either tobacco pails or syrup pails. Hot lunch consisted of food placed in pint jars and warmed on the kerosene stove in a copper wash boiler. Lunch was food found on the farm, such as ham or summer sausage, along with as much milk as a student could carry. Cedarburg Wayside Dairy would sell milk for 5 cents to those who didn't bring any.
Schoolyard games included Schinny, a form of hockey in which a carved branch and a wooden spoon or stone was used, and Duck & Rock, a game of kicking the stone the farthest. Children also played Run, My Good Sheep Run and Hide & Seek. Boys played ball, but the girls were not allowed to play. They also played marbles and jacks and worked on their knife-throwing skills.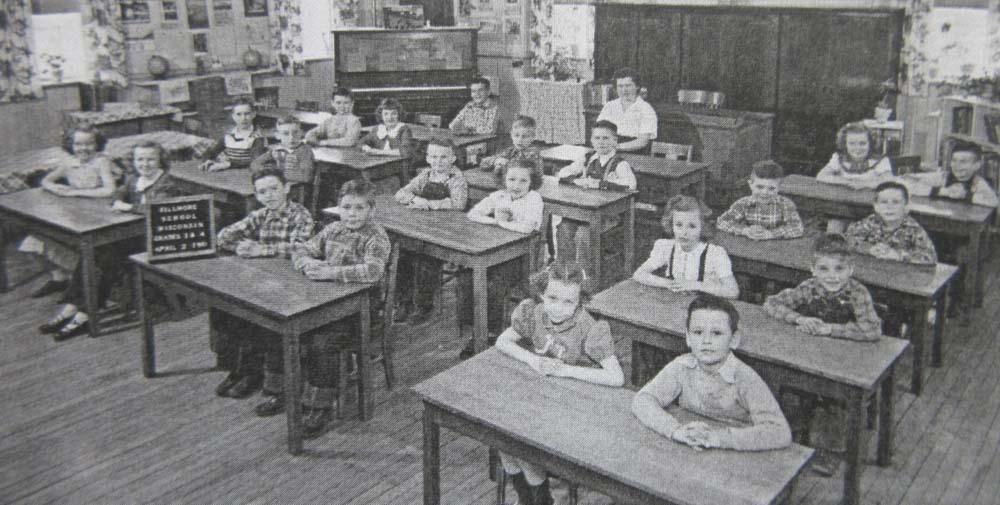 Fillmore School grades 1-4 in 1951.
Art and music classes for grades 1-4 were taught by going upstairs to the second floor classes and listening to a radio program about that subject. Science field trips consisted of trips into the woods to collect leaves and bugs.
Children would march in the "Decoration Day" (Memorial Day) parade. Next to Christmas, Decoration Day was the biggest event in Fillmore. The students walked from the school to Turner Hall and Union Cemetery, the boys carrying flags and the girls carrying fresh flowers. The band assembled in the shade of the box elder trees as the teachers steered the children to their proper place in line. The flags and wreaths were placed on the soldiers' graves.
Most students did not go on to high school. They usually found jobs, joined the service or got married.
Excerpts from Fillmore 150 Years, 2006, & Footprints Through Farmington, 1997.