Coming to America: The Irish Immigration
---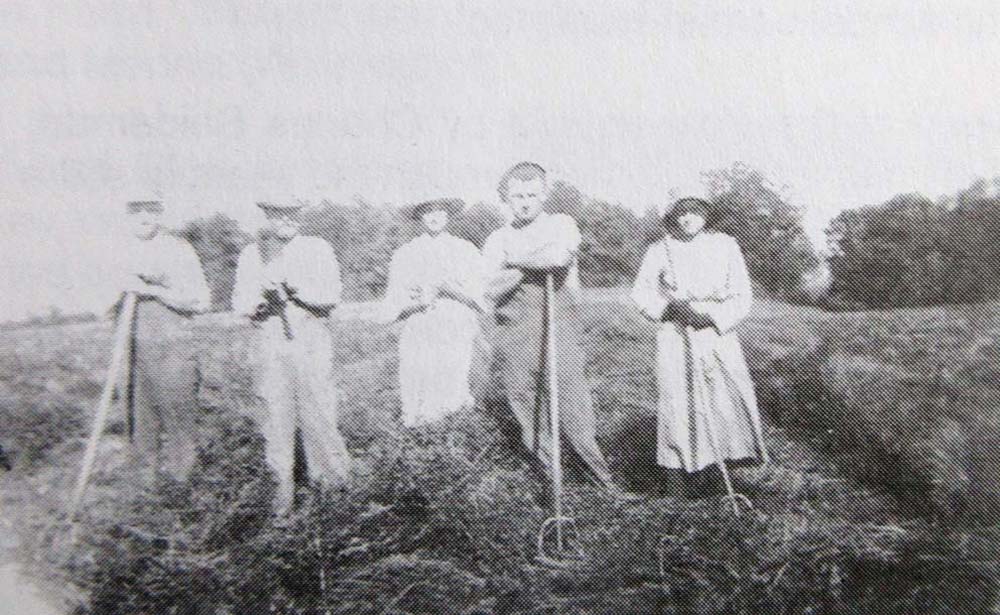 The McKee family, circa 1920: John, his father James (3rd Gen.), John's wife Veronica, Walter and his wife, Nora.
Early settlers in Washington County were immigrants leaving the economic hardship and political and religious problem in Europe for a better life in America. At the time of the major exodus from Europe, Wisconsin had abundant government land for sale and promoted its availability. Washington County and the Town of Farmington would be settled as a result of this immigrant tide. This included the Irish.
The desolation caused by the potato famine and conflicts with British rule forced thousands of Ireland's citizens out of their home country, and many followed their dream to America. In the 1840s, 40,000 Irish citizens left the Emerald Isle for America.
These early Irish immigrants left their homeland in dire poverty. They traveled through immigration points and worked their way west or frequently settled in the east for a time until they had the means to travel to government lands in Wisconsin. A steamer ticket from Buffalo, New York, to the Ports of Milwaukee and Sheboygan was ten dollars. Agencies such as the Irish Immigration Society and Emigration Commission promoted the availability of land at a dollar and a half per acre.
In 1850, the Irish were nineteen percent of the Town of Farmington's population. This was represented almost entirely by the St. John of God ethnic cluster, which is one of the earliest Irish settlements in Washington County. Unlike most early Irish settlements that had disappeared, the St. John of God community continued, as evidence of a pioneer settlement and the efforts of early settlers to create a new community for their families, including a solid foundation in their faith and belief in education.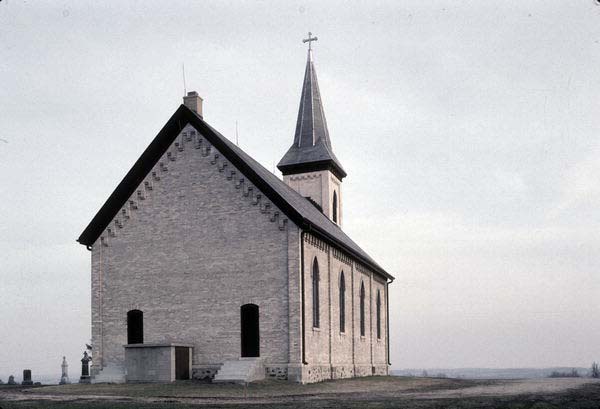 St. John of God Church, built in 1890 by the Irish settlers. Undated photo.
The pioneers settling in the town of Farmington and forming the parish of St. John of God are typical of these Irish immigrants dreaming of owning land and starting a new life. They frequently arrived with little more than an axe and a grub hoe with which to start their new life.
Several St. John of God pioneer families were the original land grant purchasers in 1846 and 1847, and included: Hagy, Riley, Mulvanny, McKee, Campbell, Callaghan, Kenney, Dowling. Approximately forty Irish pioneers are represented on the 1859 Farmington plat map.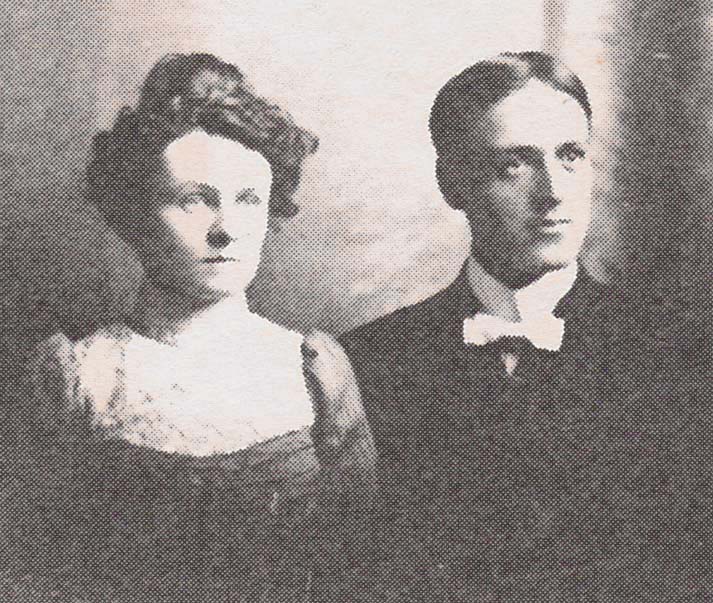 Joseph and Mary Riley, undated photo. Joseph Patrick Riley (3rd Gen.) married Mary "Mamie" McKee and took over the Riley homestead farm. The farm is located on Highway 144 just south of Boltonville and is still in the family.
The St. John of God parish was formed in 1859, and a church, school and convent were built in the 1860s on the present site, firmly establishing a new Irish community for these pioneer families.
Excerpts from Footprints Through Farmington and St. John of God Catholic Church – 1859-1998.